W.Mueller GmbH for Multilayer Extrusion Heads for EBM Machines - Germany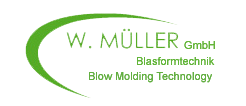 W.Mueller GmbH was established in the year 1976 as W.Mueller KG in Lohmar-Donrath, Germany and is now a part of Multinational organization that is privately owned by the Mueller family.

During 1995 as business expanded W.Mueller moved into a new facility in Troisdorf-Spich in Germany and made it their Head Quarters.The Company was re-named as W.Mueller GmbH in 1998.

In 2004 combining their operations in Lohmar-Donrath and Troisdorf-Spich, they moved to an even bigger facility in Troisdorf-Spich which is now the present Head Quarter of W.Mueller GmbH.
W. Müller specializes in the design and manufacturing of extrusion heads for blow molding machines, including satellite extruders and control systems. Since 1976 W. Müller has been known as the premier extrusion head manufacturer in the industry.
Following company tradition, we continue to offer innovation in blow molding, coupled with superior customer service.With our large in-house spare parts inventory and technical support staff, we respond quickly in this fast moving and rapidly changing business environment.
Equipped with a state-of-the-art 7-layer co-extrusion blow molding machine for sampling and product development, we are a valuable resource to clients searching for new business opportunities. The most important goal for the W. Müller companies has been and always will be the satisfaction of our customers.
Areas of Application
Food Industry
Cosmetics Industry
Pharmaceutical Industry
Household Products
Agricultural Chemistry
Bio-plastics
Automotive Industry
Bulk Containers
Industrial Packaging
Foamed
Components Back